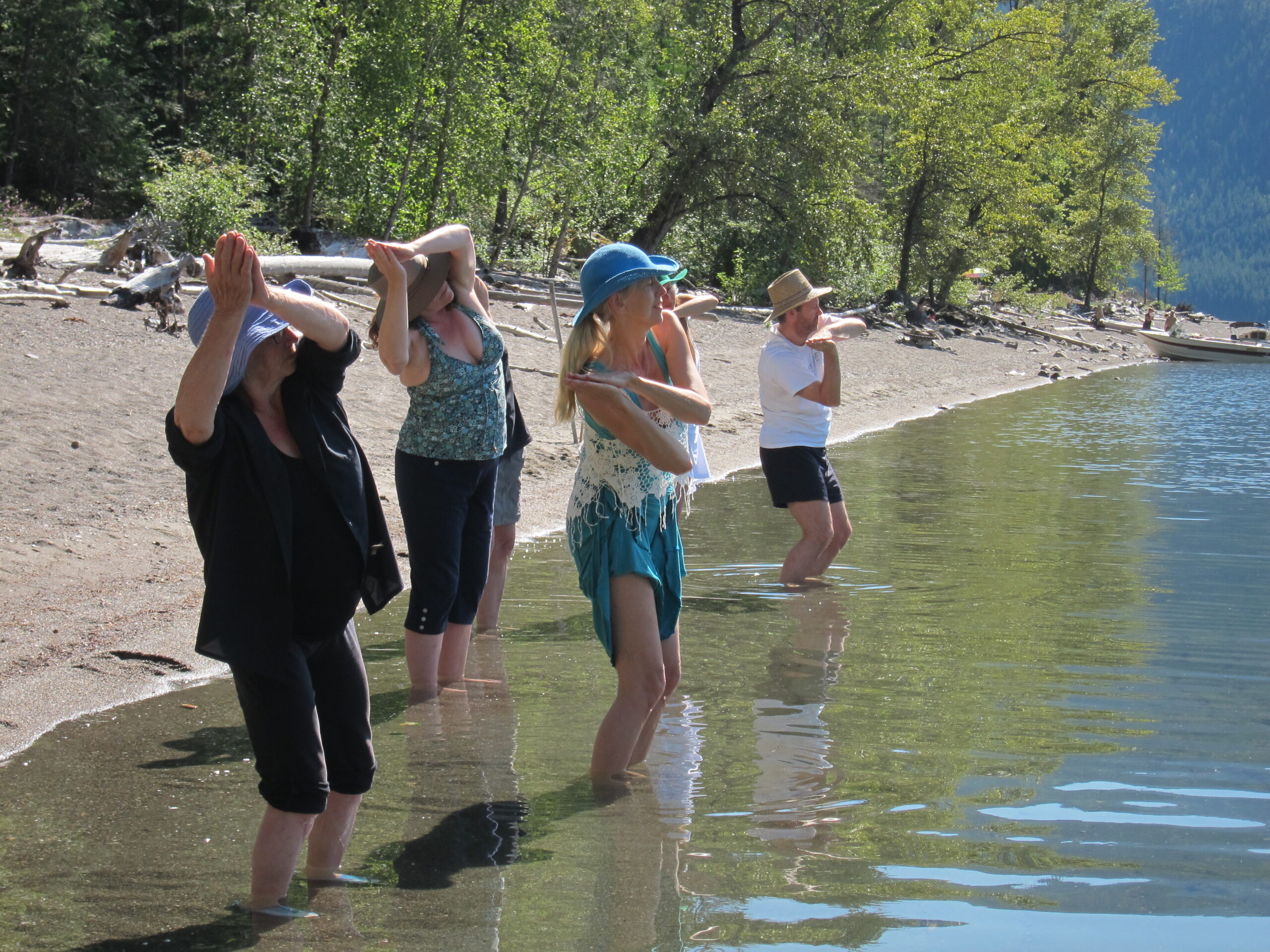 2023 Tao Alchemy Arts Qi Gong Teacher Training
Welcome to Johnson's Landing Retreat
This is where you book your food and accommodations for your Qi gong Teacher training
All prices include both food and accommodations only
Level I – July 9 – 23, 2023
Level II – July 23 – Aug. 6, 2023
Practice Tao Yoga, Qigong and Meditation
for an amazing awakening and rejuvenating experience.
*Cultivate your body, energy, soul and spirit to bring your sense of well being to a new level.
*Connect and absorb nature's splendor and pure energy.
*Learn tools to get your personal Energy Body tuned up
so you can vibrate with the Source. 
Become a Tao Alchemy Qigong Instructor
to support others to:
*awaken their natural healing energy
*learn ways to transform their emotions
*integrate self-love and self care into their life
Accelerate your growth!
Professional Training – 4 weeks, 200 hours
Personal Retreat – 14 days, first 2 weeks 
*This retreat is a great opportunity to deepen your practice.
*Those with prior Silent Ground experience of Tao Fundamentals and Healing Love
are welcome to join for the last 2 weeks, Level II.
*You will receive a practice guide with clear descriptions of the practices. 
In this training you will:
• Understand the benefits and healing properties of each practice
• Refine each movement to embody fluidity, harmony, and strength
• Integrate conscious breathing techniques
• Develop and facilitate classes and private sessions
• Build your personal daily practice..
Level I – Tao Basics & Healing Love
July 9 – 23, 2023
Curriculum
This 2-weeks immersion focuses on the Tao Alchemy Fundamentals and Tao Sexual Energy Cultivation.
We will be practising Meditation, Tao Yin Yoga and Qigong in our daily schedule.
Week One: Tao Fundamentals and Self Healing includes:
Inner Smile Meditation, Microcosmic Orbit, Six Healing Sounds, Qi Self-Massage,
Iron Shirt Qigong, and Medical Qigong.
*This week is grounding and gets you in touch with your emotions and vital organs.
*Practice healing sounds and colour to clear and reprogram your inner world.
*Open channels and become aware of your energy body. 
Week Two: Healing Love and Cultivating Sexual Energy includes:
Self-Massage, Sexual Vitality Qigong, Tao Yogic Breathing, Energy Healing,
Bone Marrow Nei Kung, Yoni Egg and Conscious Relationship

*This week is a deep dive into cultivating self-love and sexual energy.
*We will start with solo practices, which men and women will practice separately.
*Once we tune our own instrument, we will explore dual cultivation
and ways to exchange and harmonize energy. 
Level II – Five Elements & Shamanic Alchemy
July 23 – Aug. 6, 2023
Curriculum
This 2-weeks immersion focuses on Fusion of the Five Elements I, II, III and Shamanic Alchemy.
We will be practising Meditation, Tao Yin Yoga and Qigong in our daily schedule.
Week One: Five Elements and Shamanic Alchemy includes:
Fusion of the Five Elements I, Five Element Qigong, Five Animal Frolic,
Iron Shirt Qigong, Wu Wei Qigong, Clearing Ancestral Knots
*This week is soul-balancing, by practicing ancient formulas,
*We will be fusing polarized emotional energies into neutral energy.
*Get in touch with your inner children and inner animals.
*Clear old limiting imprints and honour your ancestors.
Week Two: Inner Alchemy and Spiritual Qigong includes:
Fusion of the Five Elements II and III, Fusion of the Eight Psychic Channels,
Energy Clearing, Psychic Protection, Cord Cutting, Soul Body, and Primordial Qigong
This week is liberating, raising your frequency, and nourishing your higher destiny.
*We will cultivate compassion through growing virtues.
*Build healthy boundaries and know your energetic codes
*Resolve unhealthy attachments and free your heart with forgiveness.
*Nourish your body, soul and spirit and return to the creative source
*Learn how to create sacred space and facilitate your own classes and workshops.
Weekly Practicum – You will have a chance to teach a class in Meditation, Tao Yoga and Qigong and receive feedback on your practice and teaching.
Practice teaching in small groups will be on Saturdays.
Intimate Group – Only 10 students will be accepted for optimal personal support.
Certification – You will be certified by Tao Alchemy Arts.
If you have sufficient prerequisite hours (70 hours), with a minimum of 6 months of personal practice and pass the test for Associate UHT Instructor, your certification will be internationally recognized by the Universal Healing Tao (system founded by Grandmaster Mantak Chia).
If you are already a UHT Instructor, we can test you for upgrades.
Certification will be for each level, according to their past experience. If someone has at least 40 hours of previous training and a year of personal practice, we will certify them as an instructor of the material. If they are less experienced, they will receive a participant certificate.
Textbooks
for Level I: 'Tao Tantric Arts for Women' by Minke de Vos
'Energy Balance though the Tao', 'Tan Tien Chi Kung', 'Iron Shirt Chi Kung' by Mantak Chia
for Level II: 'Fusion of the Five Elements' and 'Fusion of the Eight Psychic Channels' by Mantak Chia
Expert Teachers
Minke de Vos and David Gyurkovics together have over 50 years of experience.
Minke has been certifying teachers for over 30 years.
Minke de Vos is a Senior Universal Healing Tao Instructor, certified by Taoist Grandmaster Mantak Chia. As Director of Silent Ground Retreats, she has devoted over 35 years to practicing meditative, healing and movement arts. She draws inspiration from a broad base of disciplines, including Dance, Eurythmy and Voice work. Following a series of Kundalini awakenings, her encounter with Taoist teachings confirmed the universality of her experience. She is a Master Therapist of Shamanic Chinese Medicine, certified by the International Institute of Medical Qigong. Author of "Tao Tantric Arts for Women". Practitioners of all levels benefit from her creative teaching style, with its focus on living a vital, loving and passionate life.
David Gyurkovics, Universal Healing Tao Instructor, has over 25 years of experience in Taoist internal practices. He is a practitioner of Chinese Shamanic Medicine, Acutonics, and Chi Nei Tsang (Taoist Internal Organ Massage). He is a musician and offers Sound Healing at their retreats. He emphasizes breathwork as a basis for healthy living.
Schedule

7 am Meditation & Chi Self Massage
8:45 Breakfast
10 Dialogue
11 Tao Yoga & Yogic Breathing
12:30 pm Lunch
3 Qigong
4:30 Break
5 Meditation & Healing Love
6 Dinner
7:30 Bone Breathing & Unwinding
9 pm Healing Sounds
Your Tuition paid directly to Minke:
in Canadian dollars, plus 5% GST tax
2 weeks retreat – $2,400, early bird (before June 9) $2,100 CAD 
4 weeks retreat – $4,080, early bird (before June 9) $3,780 CAD
Register with Minke – [email protected]
Reserve your spot with a deposit of $800 CAD
by INTERAC etransfer, paypal, cheque, money orders or bank transfer
(non-refundable after June 9, before this there will be a 10% admin fee applied)
Balance due July 1st
If the course is cancelled for any reason, you will receive a full refund. 
See pictures on our website:
http://silentground.com/qigong-teacher-training.html
Your Stay at Johnson's Landing Retreat Centre

Accommodation and Meals for retreat in Canadian dollars, plus taxes paid to Johnsons Landing:

Two Weeks (14 days)
Private $2,205 CAD
Shared $1,575 CAD
Camping $1,260 CAD
Four Weeks (28 Days) plus tax
Private $4,018 CAD plus tax
Shared $2,870 CAD plus tax
Camping $2,296 CAD plus tax
Choose from:
5 cabins, 4 bedrooms in the Lodge, 2 Tree houses,
and 3 campsites.
Location:
Johnson's Landing Retreat Center, Johnson's Landing, BC
Wonderful views of Kootenay Lake and the mountains.
Great food from their organic garden!
www.johnsonslandingretreat.bc.ca
Dates include arrival and departure days, arriving on Sunday and leaving Sunday.
Please arrive by 4 pm the first day to get settled in. We start with Qigong at 5 pm.
CAD $4,018.00 – Private Room or Cabin ~ One Month
CAD $2,870.00 – Shared room or Shared Cabin ~ One Month
CAD $2,205.00 – Private room or Cabin~ Two Weeks
CAD $1,575.00 – Shared Room or Cabin ~ Two Weeks
CAD $1,260.00 – Camping
With Minke de Vos
Email us about program